Why We're Different
Experience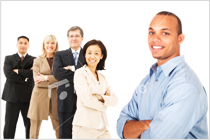 Over a Quarter Century of Service. Rohn Rogers Associates (RRA), established in 1983, is an Information Technology and Management consulting firm that stresses a high level of service and responsiveness in providing quality consultants and employees to our clients. For over 27 years, Rohn Rogers Associates has served a broad base of clientele from various industries and lines of business such as Banking, Financial Services, Accounting, Technology, Defense, Insurance CPG, Retail and Professional Services.
Knowledge
Our expertise and experience in the New York Metro as well as nationwide and global markets coupled with our extensive infrastructure, partner network, proprietary database and online resources give us access to the best talent in the marketplace.
Quality
RRA enforces a quality control process. Each order is a "time is of the essence" project with specific deadlines and deliverables. Candidates are thoroughly screened by recruiters with final approval by the Managing Director Recruitment.
RRA's database and its extensive network of contacts ensure its ability to supply exceptional candidates in local, national and international locations. Our ability to serve the tri-state locations is enhanced through the locations of our offices in midtown Manhattan and through the flexibility and mobility of our recruiting and management teams.